Art Summer Camps in Reno Build Confidence (Even in the Shy)
It is the supreme art of the teacher to awaken joy in creative expression and knowledge.
~Albert Einstein~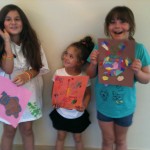 Art is a wonderful tool to help children come out of their shells and have fun. We all know that we learn best when we are having fun. This is why art is such a wonderful instruction tool. This summer we have opened several camps to allow children to continue to learn over the break, while still enjoying all the fun that a summer should come with. At Drawn2Imagine, we have noticed some absolutely amazing transformations in the children who have participated in our programs. Children who were uncertain gained assurance, those who were afraid became bold and those who were shy became confident. Seeing these transformations gives us meaning in our work. We truly love what we do!
Art comes naturally to children. It allows them to use the creativity that they naturally have. In the process, we teach them to express themselves, take risks and even give them some valuable knowledge centered on core curriculum subjects. History, English and Math are common subjects in our instruction. This makes art not only the lesson, but the device in which we can teach broader subjects. Few media are as successful as art in educating children while still making the process fun.
This summer, our camps are in full swing from June until August. Just because June is over, doesn't mean that the opportunity to involve your child in a Reno art camp has passed. We have camps opening basically every week. In July we have our Fables and Traditions and Cave Art camp, Learning The Masters writing camp, and Fairytales and Sunprints camp starting, just to name a few. With so many individually themed camps opening, there is certain to be something that your child will absolutely adore. If you are looking for a chance to give your child an opportunity to explore and grow, in a venue that will help even the most shy children more confident, don't leave town. We have exceptional summer camps in Reno, right here at Drawn2Imagine.