Before-School Program in Reno: A Jump Start for Learning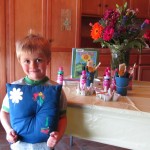 The time for children to go back to school is quickly approaching. When that time comes, you can give your child a head start with a before-school program. Drawn2Imagine is opening our doors early to welcome in the new semester. While school doors do not always open at a time that is convenient for a parent's work schedule, we have the solution. You can drop your child off with us early and we will give them a stimulating art lesson to warm them up for the rest of the day.
Our before-school art lessons are specifically designed to get their little gears turning in preparation for their day. As always, this lesson promises to be fun and engaging. We want children to see how exciting learning can be. By getting them off on the right foot every morning, they are more prepared to succeed in school. We believe that having the proper mindset in class is a very important key to education and we can't think of any better subject to get a child in the mood for learning than art.
As we have said before, art is a naturally fun subject for children. It also opens their minds up towards being creative and developing problem-solving skills. These are very important portions of the brain to have running at full speed when diving into difficult classes. Our Reno art classes stimulate young minds up and prepare them for the upcoming school day.
As an added bonus, if your child attends Roy Gomm Elementary School then you don't have to worry about picking them up and taking them there. Each morning we will walk your child to school. It is a safe and convenient option for busy parents, so don't let this opportunity go to waste. Give your child the best early morning preparation with our before-school program in Reno. And remember, art is a great way to start the day!