Dropping the Arts Drops Test Scores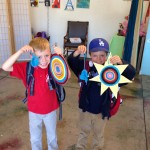 Over the past decade and a half, the focus of education has shifted (and not TOWARD the arts). Concerned with failing math and science scores, policymakers have brought education in these fields as the strongest points of interest. Funding was released from the federal government to schools that met certain stipulations regarding their programs. These often required more time to be spent on math, science and reading. The results were not as resounding as expected. Raised standards improved scores, but not as much as intended. This left the question: what was missing?
Adding more time to the school day was overwhelmingly unpopular. Therefore, in order to get more time on math, science and reading, something had to be cut. This left art programs in the most vulnerable positions. Educators were forced to reduce and very often eliminate art education. First graders lost designated art time, fifth graders lost music and entire schools lost their bands. With these programs cut, kids' and educators' time was redirected to pushing up the scores on standardized tests.
However, in many at risk schools especially, problems became more severe. Dropout rates climbed, and scores fell. Now there are new initiatives to bring art back to schools, and they are working. A recent article in the Washington Post declared, "Today, more and more policymakers think it is the arts, after all, that can motivate kids, engage them and help them develop 21st-century skills such as teamwork and innovative thinking—in sum, be the key to their salvation." At Drawn2Imagine, we couldn't agree more!
We created this school to bring art to children. Our experience has shown us that this statement in the Washington Post is right on target. We have seen the change it can bring, inspiring a love of learning in children that simply cannot be created with any other subject. If you want your child to experience the team building, innovation-generating effects a youth art program in Reno can create, our doors are open for you and for them. Bring your child in and we will open their eyes to a world that is brighter than they ever imagined.