Fun Gingerbread House Decorating Class in Reno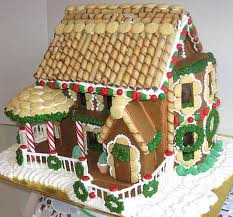 Each month Drawn2Imagine hosts a variety of fun, engaging workshops, ranging across all types of different media. Well, this month is no different! This month's workshop is back for the second year in a row and it really is one of our favorites: Gingerbread House Decorating!
You've got that right. On December 14th Drawn2Imagine will be hosting the second annual Gingerbread House Decorating Class for children 5 through 10. Last year all of our Hansels and Gretels had such a blast that we couldn't dream of missing out on doing it again this year. So, in the afternoon from 1 to 3, you can bring your child by to build their very own gingerbread houses. Here's the best part: We'll provide all the materials and deal with the mess!
We're really excited, and some of us have even been reading up on all things gingerbread! Here are some fun facts:
Gingerbread was introduced to Europe in 992 by an Armenian monk who came to live in Bondaroy (France) for 7 years. During that time he taught Gingerbread cooking to French priests and Christians. Then after that, gingerbread caught on all across Europe. And much, much later, made it's way over to America.
The art of shaping gingerbread into decoration is believed to date back to the 15th and 16th centuries. In fact, Elizabeth I of England had gingerbread figures shaped to resemble her important holiday guests. During this time period, it was customary to bake biscuits and decorate them to be displayed in windows. Some of the most elaborate gingerbread decorations were gilded with gold leaf.
During Christmas, in San Francisco, two hotels display rival gingerbread houses during the holidays, some of which can be very elaborate and gigantic. But, as far as the biggest gingerbread house, that belongs to a group in Bryan, Texas, who broke the Guiness World Record by building a 2,520-square-foot edible house. They did so to raise money for a nearby hospital trauma center. But what about gingerbread cities? Well, a chef by the name of Jon Lovitch broke the record for the largest gingerbread city. His gingerbread village had 135 residential and 22 commercial buildings. It also had gingerbread cable cars and a gingerbread train. How fun!
Well, now that you have a head full of gingerbread facts, we sure hope your children will join us on Dec. 14th to build up some gingerbread dreams of their own!
Please sign up today. We only have a few spots left!
When: December 14th
What: A One-of-a-kind, Totally Fun Gingerbread House Decorating Class
Time: 1 pm to 3:00 pm
Who: 5 thru 10!
Price: $50