Give Your Child a Head Start With A Summer Writing Class in Reno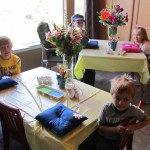 What if your child is destined to one day grow up and be an author? We think that is a fun question to entertain. The art of storytelling takes years of practice and development. Many children do not get to really dive into creative writing until they are much older. Drawn2Imagine has decided that this simply is not acceptable. We are dedicated to creating youth art classes in Reno to help children find true passion in their lives. Writing is an exceptional art in that it can both dramatically improve a child's educational development and provide a great deal of fun in the process.
This summer, for the first time, Drawn2Imagine will be introducing a summer writing class. Instructed by local college instructor, professional writer and owner of GhostWest, Bill M. West, this class will be specifically designed to open the imagination of your child. While grammar and sentence structure are themes, the main focus will be helping children to develop a story of their creation. Once completed, their stories will be published in their very first book, complete with illustration and professional cover design.
Don't miss this opportunity to allow your child to get involved with a youth-oriented summer writing class in Reno. It could be the class that puts them on the course of pursuing a future in writing. Plus, once they become famous you will have the autographed copy of their first publication to treasure. This is certain to be a fun class as we give your child the chance to dive into their imagination and create. Besides, we can think of no better summer camp for your child than here at Drawn2Imagine.