How to Keep Children Engaged Over Winter Break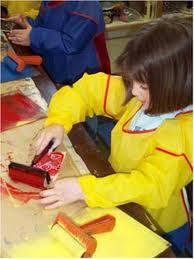 How oh how to keep children engaged over winter break? Boy we hear this a lot!
Christmas will be here before we know it, and with the holiday season comes a winter break for most of the children in the Reno area and beyond. Depending on whether your child has two, three or even four weeks off, there are always options to keep your child diligent in his or her studies. At Drawn2Imagine, our fine arts program here in Reno, is offering some fun and engaging ideas tol keep your child moving forward over the break. Now, you know that we wouldn't present any ideas that aren't a guaranteed hit with your child, so this is a must read. And, of course, we're offering many fun and challenging classes over Winter Break and would love to see your children enrolled!
Build a Scrapbook
The holiday season usually produces excellent opportunities for family photography. Don't leave those pictures just lying around. Instead, our fine arts program in Reno suggests that you engage your family with a fun art project. Scrapbooking builds artistic innovation and problem solving skills in children. It's fun for them and a great opportunity to spend some quality time together.
Cook Dinner Together
If you think about it, there are great opportunities for teaching math and measurement skills in the kitchen (and you get to eat!). Even if they are too young to work the stove or swing a knife, they can still help by figuring out how much of each ingredient should be added.
Break Out the Books
Daily practice will keep them up on their reading skills. Make it fun and exciting by allowing them to pick the book and then you can take turns reading it to one another. While teens may not be interested in reading out loud to you, they still will enjoy getting into a great story once you convince them to read on their "break."
Check into a Day Camp
Around here at Drawn2Imagine, we're big fans of winter break, so you know we will be offering several day camps during the break. We will have camps for everything from honoring New Year's Day to one that focuses on New Beginnings: Faith, Hope and Love. They are sure to be a great time, and definitely educational.
At Drawn2Imagine, we understand that children love to learn. Our Reno art classes focus on making learning fun, because when learning and fun come together, your child is more engaged and positioned to absorb more information. Keep this in mind as you enjoy the winter break together.
We hope to be part of your winter break!