Special Kids Art Classes in Reno That Are Just for Homeschoolers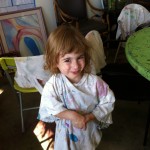 Art opens so many doors for so many of our children. We have seen great changes in youngsters of many different ages, backgrounds and skill sets. Also, our kids art classes in Reno are not only for those who attend nearby Roy Gomm Elementary School. Instead, we open them up to every child across the area, including homeschoolers. In fact, we have a class set up especially for homeschoolers.
While homeschooling is a great option for many kids and parents across the nation, sometimes it can be difficult to find opportunities for social interaction. When you sign up for our Reno youth art classes, this is no longer a problem. We provide educational art classes that are tons of fun. Our homeschooler classes give your child the opportunity to explore the world of art with other children.
We aren't in the business of simply sitting a child down with a box of crayons and a coloring book to occupy their time. At Drawn2Imagine, we go much further than this. Every class comes with an insightful lesson that often reflects many historical and contemporary subjects. After all, these subjects have served as inspiration for many of the greatest artists throughout time.
At Drawn2Imagine, we create kids art classes in Reno that will open up your child's creativity and give them options for social interaction They are virtually guaranteed to have a great time and will be learning valuable lessons and skills along the way. This is the job we've always dreamed about. We love waking up and going to work every day. This love is the driving force behind every class we offer. Come see what Drawn2Imagine can offer your child. We would love to see you and your little one down here at our Reno art studio (designed specially for KIDS!).