More than Just a "Drop Off" We Are a Reno Art Academy
At Drawn2Imagine we are constantly working to raise the bar for what we can offer students. Doing so requires clear focus and well-defined values. As we continue to move towards accreditation and open new engaging classes, we thought we would share with you the core values that make us more than just a "drop off" program.
Our Core Values: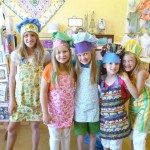 1. Family- We treat your family like our family. We love our kids and teens and we take care of them and their families as though they are our own.
2. Passionate- We are crazily passionate about what we do. And we want to share that passion with the families who come to Drawn2Imagine: Art Academy for Kids & Teens.
3. Creative- We want our program to truly enrich our students, so we are always working toward bringing in new and creative ideas.
4. Heartfelt- Everything we do comes from our hearts. Simple as that.
5. Fun- Sure, we enrich with learning, but we also like to have FUN. Our kids and teens are free from pressure, which fuels their ability to express themselves.
6. Safe- We enforce a safe environment for kids to be themselves, no bullying, no negativity. We are all about maintaining a positive and safe place for our art students to learn, create and grow.
7. Laughter- A good belly laugh is amazing food for the soul; we want our kids to feed their souls! Laughing plays a huge role at Drawn2Imagine; we challenge you to find us without smiles and laughter beaming across our faces!
The future holds many exciting progressions for Drawn2Imagine. We are dedicated to being the most successful, fully accredited Reno Art Academy. Through setting our goals, always offering the most engaging classes and by following our core values, we believe our dreams are already being realized. And we understand that we could never have accomplished as much as we already have without the students and families who have placed their trust in us. It is something for which we are very thankful … Thank you!