Our Vision: Reno Fine Art Academy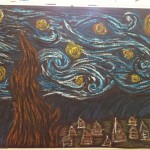 As we move towards the future, we have created a vision for the direction of our school. First and foremost, we are working on becoming accredited in 2013. This is possible because we offer serious courses taught by serious instructors: all of our teachers hold Bachelor of Fine Arts degrees (BFAs). Second, we want to continue to further develop our strategy of providing focused, unique and specialized instruction regarding developmental and fine arts for kids and teens. There are few programs that will follow a toddler at the age of 2 all the way until they are preparing for college. Along the way we work to steadily build their skills starting with the fundamentals, fine and gross motor skill, and tactile and sensory skills. When they are ready, we move forward and begin exploring different techniques, themes, forms and even the history of master artists.
Our curriculum is centered around a three-step process on which we start younger children:
1. We have found that children are more focused when they get a warm-up. Therefore, we start with line stretches and breathing exercises.
2. Our instruction begins with identification of the differences between subjects like thumbnail sketches and masterpieces. Then we create both, developing problem-solving techniques along the way.
3. For the finale, we conduct a "museum walk," where we talk about what we've learned, whether it is a technique, artist or something else.
As children get older and break into their teens, we replace the line stretches with an instruction block that focuses on art history, digital arts, a specified technique or theme. This helps teens prepare for potentially studying arts in college.
Ultimately, our vision is to use our instructional methods to create imaginative, creative and self-expressive individuals who are well equipped to not only survive, but thrive, bringing art to future generations.
We want you to know Kids-N-Art is not simply just a "drop-off" program; we are a progressive and creative Reno fine art academy for kids and teens!