Reno Art Classes- Share Some Quality Time in Our Mother/Daughter Crochet Workshop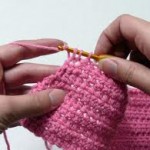 As a mother, you want to spend all the precious time you can with your children. Finding great experiences to share together can make both your day and theirs memorable. At Drawn2Imagine we provide youth art programs in Reno that are designed to stimulate the creative side of your child, but sometimes we see opportunities to bring parents into the classroom as well. Our Mother/Daughter (or Son) Crochet Workshop is a Reno class we created specifically with the intention of giving parents the opportunity to spend some quality time with their children; plus, it's fun.
If you are already a crochet master, great, this class will give you the opportunity to share your craft with your child. If you are a beginner, equally as great, you will get a chance to improve your skills and learn alongside your son or daughter. Our instruction centers on the fundamentals of the art of crochet. Students participate in activities that teach proper hand positioning, chaining, the four basic stitches and how to read a pattern.
Developing strong relationships and sharing those great moments is always a special treat for a mother. Our Reno art classes, like the Mother/Daughter Crochet Workshop, are always engaging and fun. Drawn2Imagine's experienced and passionate staff is completely committed to making every class a wonderful experience and with this one, you get to join in on the fun. With tuition being only $25 for a two hour session, and convenient meeting on Saturdays, there really is nothing to hold you back. Come stitch with us!