Reno Art at Home: Simple Fall Art Projects
At Drawn2Imagine, we provide Reno art classes that are fun and educational for kids. While we have a great time here in the classroom, the fun doesn't have to end when you pick up your child. You can surely participate in art projects at home with your child.
To get you started we thought we would do a little bit of looking around and brainstorming for some ideas across the web and here at our Reno art studio. Here is what we found:
Fall Geometrees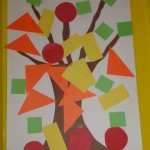 Materials:
2 pieces brown construction paper
1 piece red construction paper
1 piece orange construction paper
1 piece yellow construction paper
1 large white backing paper
Scissors
Glue Stick
This is exceptionally great for younger children because it also helps to teach geometric shapes. Simply cut 1 piece of brown paper into the shape of branches and the other into a trunk. Then, cut the red into circles, yellow into rectangles, green into squares and orange into triangles. Depending on the age of your child, you can decide whether or not to precut the paper for them. Glue the trunk and branches on first and then have fun placing the rest on the tree randomly.
Leaf Puppets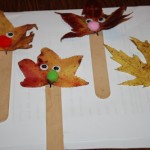 Materials:
Popsicle Sticks
Leaves
Glue-on  googly eyes
Glue-on noses (we like these little fur balls)
This art project is fun because it comes with activities before and after their creation. You can start by going to the park for a leaf hunt. Make sure to select plenty of extras because leaves are brittle once they've turned and a few may be lost during gluing. Creating them is as simple as it looks. Glue the leaves on the Popsicle stick and the eyes and noses on top. Afterwards, there is always the promise of a puppet show. Have fun!
Drawn2Imagine is crazy about art! Based in Reno, Nevada, our youth art classes are as educational as they are fun. Join us today!