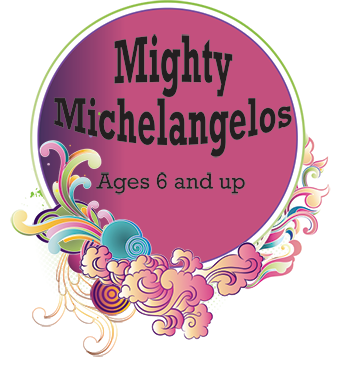 All Four Sessions
(16 weeks of lessons)
$99.99
Two Sessions
(8 weeks of lessons)
$55.99
One Session
(4 weeks of lessons)
$29.99
Mighty Michelangelo's Session Curriculum Outline:
Session 1 (Every Lesson should use our 3-Step Method)
Weeks:
Butterfly with Shades and Tints, learning about symmetry, and patterns.
Drawing from still life. Learning observation and patience.
Learning the Color Wheel.
Joan Miro Automatic Surrealism. Learning about automatic drawing, shape, lines and color.
Session 2
Weeks:
Folk Art Landscape. Learning to use Acrylic paint and about Folk Art.
Guatemalan Worry Dolls, learning culture, traditions and legends, as well as developing fine motor skills.
Insect on a flower, learning about close up painting, cut drawing and watercolor resist.
Elements of Art, learning the 7 elements of art.
Session 3
Weeks:
Painted Elephant from India, learning about animals, festivals marker bleed painting technique, shading and texture.
Raccoon Reflections, practicing different types of lines putting them into shapes, and introduced to basic printmaking concepts and how to make a simple image transfer.
Deer Head Collage, learning about collaging, tracing, cutting and gluing.
Stuffed felt creatures. Kids learning how to turn 2D into 3D. Learning sewing stitches like the whipstitch, basic stitch and split stitch.
Session 4
Weeks:
Open Road, learning single point perspective.
Zentangle, learning to draw animals and elements and principles of art such as patterns, lines, shapes, balance, rhythm and more.
Marble Flower, learning combining multiple techniques to create a single masterpiece.
Straw Weaving, learning how to make a simple woven band that can be turned into a bookmark, wristband, headband or belt.