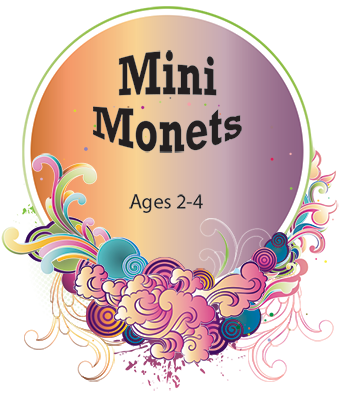 All Four Sessions
(16 weeks of lessons)
$99.99
Two Sessions
(8 weeks of lessons)
$55.99
One Session
(4 weeks of lessons)
$29.99
Mini Monet's Session Curriculum Outline:
Session 1
Weeks:
Geometric Firetruck Lesson, learning shapes and primary colors.
George Seurat Q-Tip Lesson, learning about pointillism (painting with dots), texture and color mixing and creating patterns.
Happy Smiling Sun Lesson, learning our lines and shapes.
Bubble Print Lesson, learning monotype printmaking while building fine motor skills.
Session 2
Weeks:
Stamp Pattern Coiled Snakes.
Lion & Lamb Bubble Print (repetition of the bubble painting is great for children's cognitive thinking development).
Kite Suncatcher Learning about shapes and color, and sensory and fine motor skills.
Shaving Cream Paper Marbling, learning to transfer images.
Session 3
Weeks:
Henri Matisse Lesson "Painting with Scissors", collaging and practicing with scissor skills, learning about organic and geometric shapes, also focusing on space.
Klimt Cat Mixed Media Collage Inspired by Gustav Klimt
Paper Bowl Crabs, Learning Decoupage techniques, fine motor and mixed media.
Cloud Printmaking, Learning to use our imaginations.
Session 4
Weeks:
Earth and Hands, learning about symbols, value of symbols, and equality.
Swirl Art Lesson, Learning Primary and Secondary Colors.
Paul Cezanne, gaining knowledge of the artist Paul Cezanne, and the mixing of the primary colors to make secondary colors, and using mixed media.
Underwater Jellyfish lesson plan, learning about the water color resist.