Warmed Up for Success: Before School Program In Reno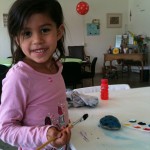 In our last post we talked about our after school program. It is a program in which we pick your child up from school and treat them to engaging art classes. This program is very popular and the perfect compliment to it is our before school program in Reno.
If your child goes to Roy Gomm, you can drop them off with us. We will get their day started with creativity and art. Once it is time for school to start, we will do the legwork of taking them there.
Art is a great way to start the day and our before school program in Reno is designed to get their creative juices flowing. Art is also great for developing problem solving. When your child gets his or her day started off on the right foot, they are better prepared to excel in their classes. With the right mindset, the sky's the limit.
The added benefit in this is for the parents. Many parents have to get to work before their child is due at school. This can create some scheduling nightmares, but Drawn2Imagine provides this before school program in Reno to create solutions. When you drop your child off with us, you get the peace of mind that comes with knowing that they are in a safe, educational and fun environment that they will love.
Whether you have scheduling issues with dropping off, picking up or both, our before and after school programs are the simple solutions. With the added bonus of treating your child to fun, engaging art classes, the Drawn2Imagine before school program in Reno is often an ideal fit for busy parents. If you are interested in participating, we still have some slots available. We look forward to meeting your little ones and getting started this week.