Waving in the New School Year With Our After School Program in Reno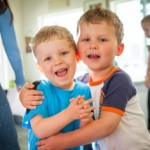 It's that time of the year again. The excitement is in the air as kids are meeting their new teachers and heading back to their studies. For parents, this welcomes in a new set of challenges. Figuring out how to make schedules work for picking up children from school can be a challenge, but at Drawn2Imagine we have the simple solution. If your children go to Roy Gomm, we can pick them up and treat them to some fun and engaging art classes.
It is all part of our after school program in Reno. Considering how close we are to Roy Gomm, we offer the service of picking your child up from school and safely walking them to our location. From there we let the education continue, but they don't have to know this. We use art to inspire their creative minds to learn important skills, like problem solving.
If your child does not go to Roy Gomm, we still welcome them to our classes. Transportation will have to be provided by the parents, but they will get all the educational fun we offer in our after school program in Reno. And let's just face it , there is no greater medium to inspire learning than art, at least that is our philosophy.
As your child gets excited about the new school year, don't worry about the logistics of picking them up. Drawn2Imagine offers an after school program in Reno that provides the solution. Next week we are going to share with you another great option, the before school program, but you don't have to wait until then to learn more. Visit our website and sign up for both. We have incredible packages that make them perfect for busy parents.